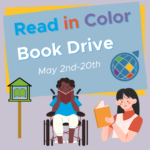 May 2nd – May 20th, CAPI is hosting our 2nd annual Read in Color Book Drive! Read in Color® is a new initiative bringing diverse books to Little Free Library book-sharing boxes around the world. Read in Color distributes books that provide perspectives on racism and social justice; celebrate BIPOC, LGBTQ+, and other marginalized voices; and incorporate experiences from all identities for all readers. CAPI is a steward of 2 of these boxes and they need your help to keep their little shelves stocked! Use the link on the right to order through Red Balloon Bookshop and receive 20% off your order!
Drop off, or send donations, attention to Monique Hernandez to either CAPI location:
CAPI IOC, 5930 Brooklyn Blvd., Brooklyn Center, MN 55429
CAPI South, 3702 E. Lake Street, Minneapolis, MN 55406.
Not sure what to donate? Check out this link from Little Free Library for some suggestions!