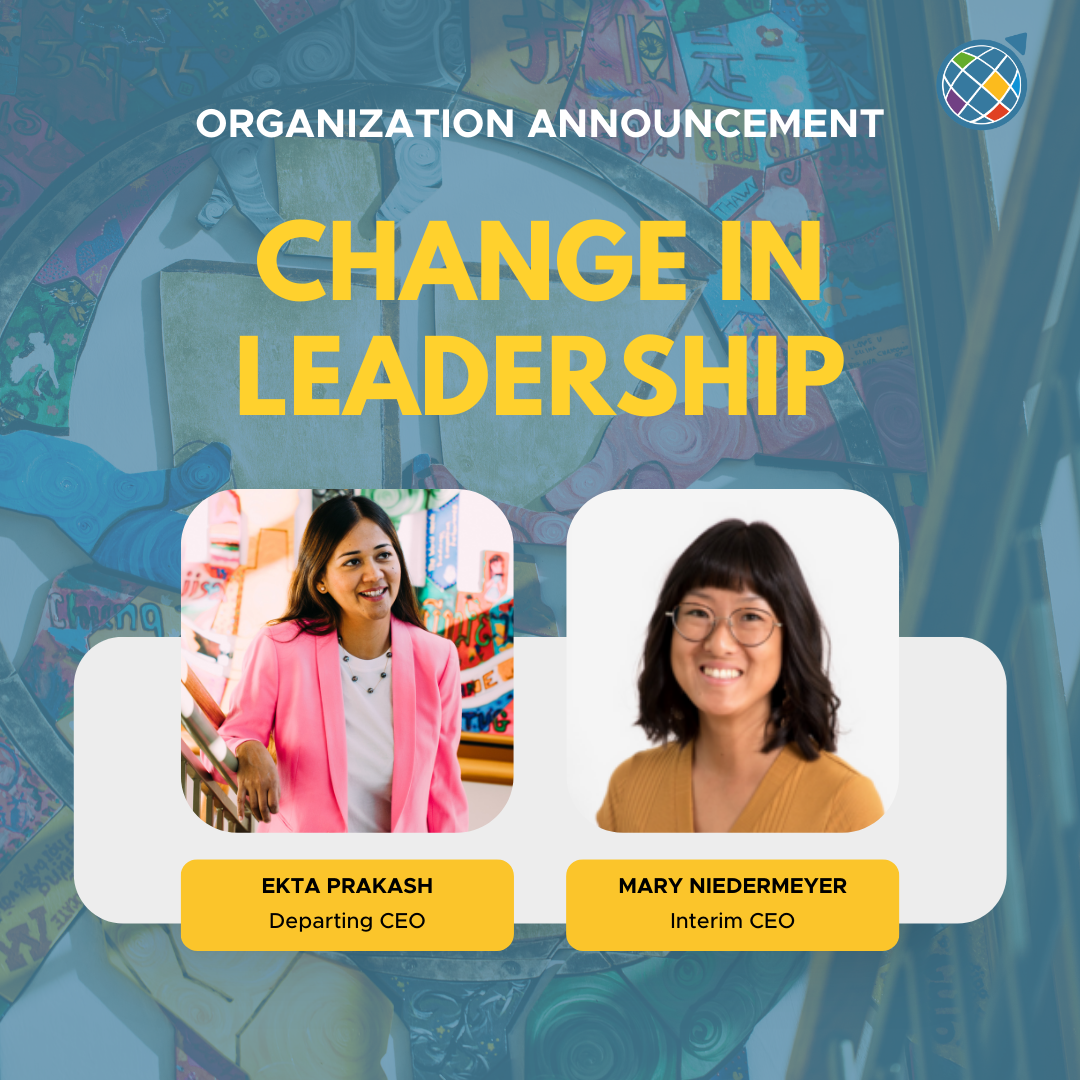 Message from the Board of Directors
FOR IMMEDIATE RELEASE
May 18th, 2023 – In the life of every organization, there is a time for goodbye. Ekta Prakash, CAPI's CEO, has been a visionary immigrant leader and passionate advocate for immigrant and refugee communities and has left an indelible mark on the Twin Cities and beyond in her 16-year tenure at CAPI USA. It is with a deep sadness that we announce Ekta's departure from CAPI. With an enduring commitment to multiculturalism, Ekta has fostered unity among immigrant populations, revitalized cultural celebrations, and empowered individuals from diverse backgrounds to make significant contributions across our communities.
Throughout her time at CAPI, Ekta's dedication to her work has been rooted in love and passion. Embracing the organization's mission, she has consistently embodied our core values and made a positive impact on the staff and community each day. Ekta's unwavering commitment to addressing racial inequity and economic injustice has played a pivotal role in uniting immigrant communities and ensuring their voices are heard.
One of Ekta's most notable achievements during her tenure at CAPI has been the establishment of the Immigrant Opportunity Center (IOC) in Brooklyn Center. In 2011, when Ekta assumed the role of Executive Director, CAPI faced significant challenges, with limited resources and staff. However, through her leadership, the organization experienced remarkable growth over the past decade. The creation of the IOC in 2018 stands as a testament to Ekta's determination to provide accessible and comprehensive support to the growing immigrant population in Northwest Hennepin County. As Ekta embarks on new endeavors, she leaves behind her commitment to advocate for the rights and well-being of immigrants and refugees, and the continued purpose to foster a vibrant and inclusive society for all. To that end, we are excited to announce that Mary Niedermeyer, one of CAPI's own, will step into the role of interim CEO for the organization to continue that vision.
Mary began her career at CAPI in 2013 as an AmeriCorps member where she learned how to create systems, and programs, and build relationships and bridges with the communities that CAPI serves. In just 2 short years, she was promoted to Career Pathways Manager and shortly thereafter moved into the position of CAPI's first-ever Workforce Development Director. In 2018, Mary left CAPI to start a family and worked as a consultant for several national and local nonprofits (including CAPI) before returning to CAPI as the Director of Operations in 2022. During her time at CAPI, Mary has grown into a strong leader who embodies CAPI's mission. As an Asian American, Mary understands the need to create a place of belonging for staff and community members alike, continuing to celebrate and uplift the cultures of our immigrant and refugee communities.
To our CAPI community members, funders, partners, and volunteers, while we are sad to see Ekta depart we are grateful for the dedication and growth that she has brought to the organization. Given the legacy left behind, we know that CAPI will only continue to become stronger in the years to come. The CAPI Board looks forward to the next chapter in our story through Mary's leadership. Thank you for your continued support, trust, and partnership.

Vinothini Ambrose, CAPI Board Chair
Vinothini Ambrose
CAPI Board Chair