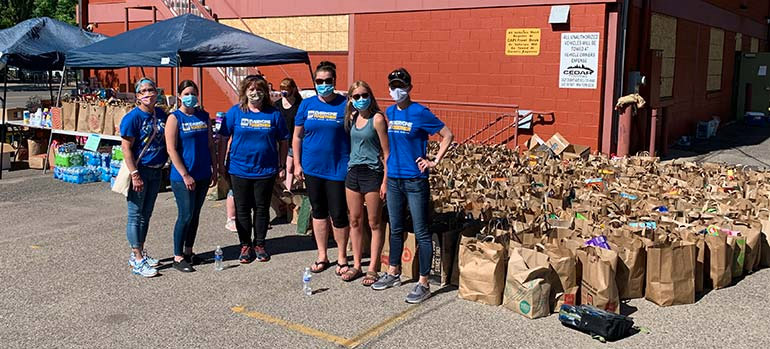 In the years to come, many of us will not look back at 2020 and say time was on our side. But for Old National and CAPI USA, 2020 has already proved to be the year that brought these two organizations together in a "meant to be" fashion.
CAPI USA, a nonprofit organization, was founded in 1982 in Minneapolis as a food shelf for refugees after the Vietnam war. At the time, the organization was known as the Centre for Asian and Pacific Islanders. Today, CAPI USA has two locations (Minneapolis and Brooklyn Center) and serves families of all cultures.
In recent years, CAPI USA has expanded its services to include not just food assistance, but also financial literacy, job training and placement.
CAPI USA also began hosting Home Stretch workshops, which are classes meant to help first-time homebuyers. Old National's Community Development Mortgage Loan Officer Joannette Cintrón had connections at CAPI USA and was invited to be a presenter at two of their workshops in early 2020. "CAPI USA is so much more than a food shelf," Cintrón said. "They have awesome programs and their success rates are really high. I was honored to partner with CAPI USA and am looking forward to helping present at future classes."
Around the same time as Cintrón was partnering with the nonprofit, CAPI USA's Development and Communications Manager Monique Hernandez attended a conference and saw Old National Commercial Relationship Manager Kristi Jacobson speaking as a presenter.
"CAPI USA opened its Brooklyn Center location in 2018, and we're still growing our presence in the community there, and I knew Old National was opening their new banking center next door to us soon, so after the conference I knew I wanted to connect with Kristi," Hernandez said.
And connect they did.
"Joannette and I connected the dots and realized we both had a connection with CAPI USA and the fact that our new banking center was next door, it felt meant to be!" Jacobson said.
By the time Old National's new banking center opened in May 2020, Old National gave CAPI USA a $5,000 grant as a way to welcome its new neighbors. The timing of the donation was just right.
"In the midst of everything (the pandemic) – having to pivot some services online and still keep our food shelf going, the donation was a great gift," Hernandez said. "We used it to help us buy culturally-specific food for our community members, as well as personal protective equipment."
Old National's partnership with CAPI USA has continued to evolve as the needs of the community have changed. After Minneapolis and St. Paul were impacted by civil unrest in June, CAPI reached out for volunteers to help box and deliver groceries to communities in need, as many people had lost access to their local grocery store due to the destruction.
Jacobson was quick to step up.
"I sent out a note to my teammates and I had so many people wanting to volunteer that I actually had to turn people away!" she said.
In just one month, Old National had at least five groups of volunteers go to both of CAPI USA's locations to volunteer.
Old National Relationship Banker Christy Cotner was one of those volunteers.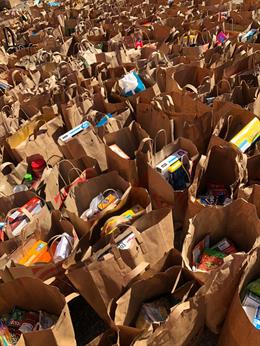 "I was so amazed to see how much food and personal care items had been donated in such a short time. It is so wonderful to see how Old National and all the other organizations came together to help out," she said. "What a true blessing to be able to be a part of all of this. I know I can speak for all of my teammates that we all love to volunteer and help out in whatever capacity we can. Seeing the smile and thanksgiving on the faces of those in need is so wonderful."
Both Old National and CAPI USA are excited to continue partnering in the future. "I'm really excited to continue this partnership and together serve the people of Brooklyn Center," Hernandez said.