Read and hear about those that we have helped to lead healthy, secure lives.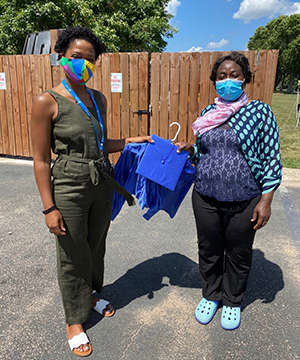 Olufunmilayo Abiodun, or Olu, is a single mother of two working in a nursing home in the Twin Cities. Due to COVID-19, her job was impacted and had to close leaving Olu with limited resources to provide for her family. She came to CAPI in search of help and found food support, received gas cards, enrolled in the Nursing Assistant certification program, and received assistance to pay for tuition. Many of the students in the program had never used computers before and were met with the extra challenge of online learning but found community together and people to cheer them on.
In August 2020, Olu and her classmates completed their program and were part of CAPI's first virtual graduation. "CAPI has been so supportive of me and my family. With their support, I have achieved an education through the NA program and can stabilize myself in society which enables me to be proud of myself." Olu hopes to continue her education in Nursing and one day complete her degree in the healthcare field. "CAPI taught me how to fish so I can eat throughout my life. Thank you!"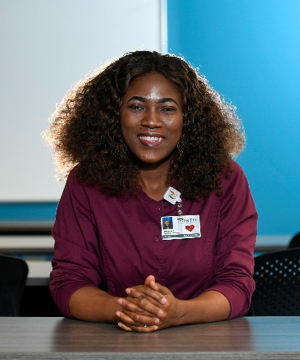 Peace is a confident, warm, positive wife and mother. She grew up in Nigeria in West Africa and lived there with her husband until she was 27. Two years ago, the couple decided to emigrate to the United States.
"In Africa, it was very hard," Peace said with a long, deliberate pause. "We hoped for better careers and a better life."
The family made their home in Brooklyn Park and had a baby, who is now 14 months old. Peace's husband worked while she stayed home with her son. However, living off one income was stressful, and Peace needed to get a job. However, she struggled to find a position aligned with her interests that paid a living wage.
A friend of Peace's was studying to become a certified nursing assistant (CNA) with the assistance of Greater Twin Cities United Way partner CAPI. The nonprofit is dedicated to helping more than 4,000 immigrants and refugees each year. United Way not only funds CAPI's work in economic empowerment, but also food security for individuals and families who need holistic support.
"When my friend told me about the nursing program I thought, I've always been interested in healthcare," Peace said. "When I was young, my grandma broke her leg and I was the one who took care of her. I realized I have a passion for helping people."
In the Fall of 2018, Peace enrolled in CAPI's nursing assistant training.
"The people leading the program were very welcoming- I felt supported," she said. "I studied hard and became one of the best students in class. I was so proud of myself."
Peace successfully completed the two-month medical and caregiving training and passed the state exam. Through CAPI's relationship with North Memorial Hospital in Robbinsdale, she got her first job as a nursing assistant.
"When I arrived in Minnesota, I wasn't working," Peace said. "Without this program made possible by CAPI and United Way, I wouldn't have been able to get a healthcare job because I didn't have any experience. Because of the training, I was able to start a career where I can help people and provide for my family."
Peace is capable, confident, and determined, with big goals for her future- she wants to become a licensed practical nurse, then a registered nurse, then get her bachelor of science degree in nursing.
"I would tell others to work hard and go after their dreams," she said. "It all starts with taking that first step."
Lee Fong Vang is a participant in the Hmong Senior program at CAPI. He came to the US as a refugee in 2005. Mr. Vang is a Lao veteran and was a soldier who fought against Communism in Laos until the communists took over in 1975. He fled to Thailand and lived in the refugee camps. He is one of the last Hmong refugees that lived in the Wat Thamkabot in Thailand.
Mr. Vang doesn't speak English. He doesn't have a car and he is unable to drive. He is unemployed and doesn't have any sources of earned income. He only receives Supplemental Security Income (SSI) from the Social Security Administration and Food Support (SNAP) from Hennepin County. Mr. Vang stated that he is thankful, but it is not enough to cover all the costs of living. He barely has anything left after paying for rent and utility bills.
After enrolling in the Hmong Seniors Program, Mr. Vang was connected to CAPI's food shelf, Caregiver/Receiver Program, and CAPI's Community Gardening Program. A gardening plot was provided to Mr. Vang and his wife Chee Xiong. Mr. Vang enjoys gardening and stated that it helps bring his memory back to his homeland where he farmed and enjoyed life in the country. It also helps reduce his isolation, depression, and stress. Gardening also provides a good opportunity to meet new people, make friends, and socialize with other seniors.
The Hmong Senior program at CAPI has had a huge impact on Mr. Vang's life. His living conditions have been improved, he has regular access to transportation to buy food and household items at the stores, as well as receiving culturally-specific food from CAPI food shelf. And, he can turn to CAPI for help and support.

Compassion, Hope, and Opportunities…
We care. Those two simple words flow through everything we do at CAPI, empowering our clients to lead healthy, secure lives. Where there are barriers and fear, we bring hope and opportunities to all we serve. Compassion drives all we do, helping individuals access the resources and pathways that will change their lives and lift up our communities. That's our goal – to change people's lives, empower them, and impact the communities we call home.